Learn to Surf
Whether you're a first-time surfer or a seasoned swell-chasing veteran, Kalufa Surf School caters to your every need in one of Europe's most beautiful surf spots! With over 15 years of experience, we provide an authentic and unforgettable surfing experience. Join us and become part of our surfing family! Our progressive and systematic approach, based on the ISA (International Surfing Association) program, is the perfect solution to discover and enhance your surfing skills. Our lessons include a land-based component where you'll learn how to read the ocean and understand the waves, because the ocean is a dynamic and untamed space that demands your understanding and respect. Afterward, you'll hit the water for practice, where you'll truly become addicted to the exhilarating sensation of gliding on the waves.
Come and discover surfing on the emblematic beach of Caleta de Famara! Each of our students, at the end of a course, will be able to practice safely and with full awareness of the ocean and the rules of practice to adopt. A Group Lesson is composed with maximum 8 student per instructor and is organized in this way:
Meeting
in Famara beach, welcoming, wearing wetsuits and warm-up on the beach.
30 min of theory
and preparation: every surfer must know the rules of this sport, and must have sufficient knowledge to practice it. We will teach you how to understand the ocean and the water: where the peak is, what a Rip current is, how to get to the line-up and finally how to catch your first wave.
2 hours of practice in the water during which you will progress rapidly thanks to our passionate coaches, always beside you, providing tips inside and outside the water.Meeting time depends about group necessity but mostly about weather conditions, in the morning or in the afternoon. For those who choose the Full Day Lesson we'll have a 30 min break, with an extra theory lesson to improve your technique and 1 hour more to surf!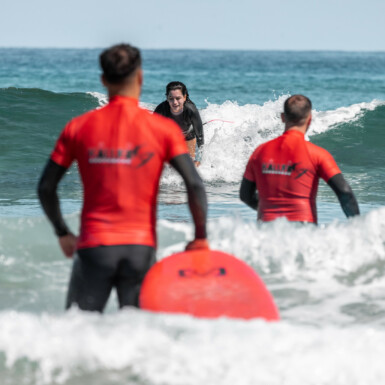 In order to meet the needs of each surfer, we offer individual or couple coaching sessions to learn and progress in a unique way. 
During 2 hours, according to your needs and expectations, and according to the weather best condition for the day, we will share our passion and we will teach you to surf.
Although group classes are a lot of fun, some people do better with special attention. We understand this perfectly, which is why we offer you exclusive attention. 
Some people are simply shy, others want to evolve faster, that's why we offer you private surfing lessons.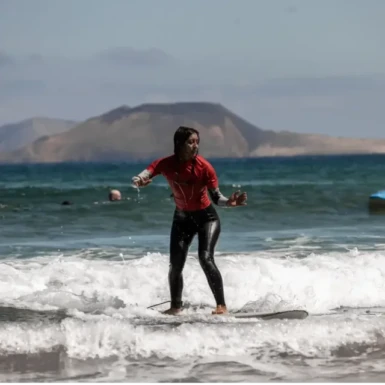 The packages allow you to go further and progess fast on learning surfing, to evolve and progress with us. From the beginner level to the advanced level, we will always offer you lessons that best suit your level and your expectations. For advanced level classes, we will propose an advanced follow-up with a video and foto analysis.⠀⠀
Super discount for 3 and 5 days pack!